College Enrichment Program (CEP)
The College Enrichment Program (CEP) provides programs that directly impact students' success at UNM.
CEP provides comprehensive student support services that assist students with their transition to higher education and attaining collegiate success. Programs focus on students who are first-generation, low income and come from rural areas.
We truly BELIEVE all students have the ability to succeed and we sincerely CARE about their success! We pride on meeting the students where they are and helping them to get where they want to go!
---
Interested in CEP?
Get connected with CEP Advisors and Peer Mentors who will guide you along your path to graduation!
Scholarships
Looking for money for school? CEP has a few scholarships available but we aren't the only source! 
Follow CEP on social media for the latest news, events, workshops, and scholarships!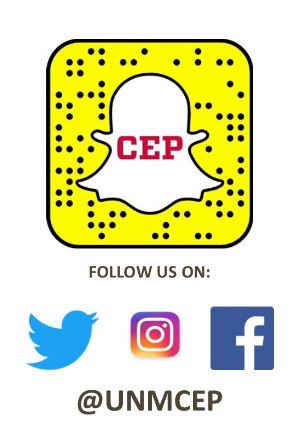 Get prepped for your finals by taking a mock test provided by UNM faculty for various math, biology, chemistry, and physics courses.
Take a
Practice test 



Get help from

Tutors



Receive an

Answer Key
Walk In Hours
Monday-Friday:
8:00AM - 5:00PM
CEP offers meetings to engage in academic guidance. We can only meet with students during the time allotted for that day. Walk-ins tend to fill up, so please arrive early. 
Quick Links
CEOP Programs:
Contact Us:
505-277-5321 
cep@unm.edu 
Mailing Address: 
College Enrichment Program Mesa Vista Hall, Room 3011 MSC 06 3840 Albuquerque, NM 87131