College Enrichment Program (CEP)
The College Enrichment Program (CEP) provides programs that directly impact students' success at UNM.
CEP provides comprehensive student support services that assist students with their transition to higher education and attaining collegiate success. Programs focus on students who are first-generation, low income and come from rural areas.
We truly BELIEVE all students have the ability to succeed and we sincerely CARE about their success! We pride on meeting the students where they are and helping them to get where they want to go!!!
Interested in CEP?
Get connected with CEP Advisors and Peer Mentors who will guide you along your path to graduation!
Donate to CEP
Interested in supporting student success? Now you can! All funds will go directly to supporting CEP students along their path to graduation!
Follow CEP on social media for the latest news, events, workshops, and scholarships!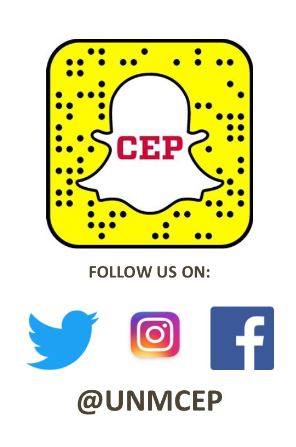 Visit Us:
Monday - Friday
8:00 AM - 5:00 PM
CEP offers meetings to engage in academic guidance. Walk-ins are always welcomed!
We are located on the third floor of Mesa Vista Hall, across from the Student Union Building (east of the SUB). We are on the north end of the building in Suite 3019.
Contact Us:
Phone:
(505) 277-5321 


Email:
cep@unm.edu
Fax:
(505) 277-2182
Mailing Address:
College Enrichment Program
MSC 06 3840
1 University of New Mexico
Albuquerque, NM 87131-0001
Quick Links
CEOP Program Website's: